Please enjoy this Water Ceremony Initially shared on 7 Days of Rest, January 2021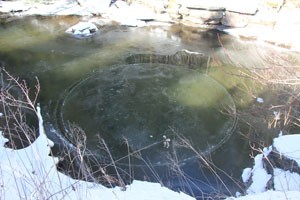 HONORING WATER CEREMONY
(Click here to download PDF Version)
[PLEASE COLLECT SOME DRINKABLE WATER IN A CUP]
[WATER IS PLACED BEFORE YOU]. 
WATER IS LISTENING
WATER HAS ALWAYS BEEN LISTENING
HEARING EVERY WORD, THOUGHT, DEED
MILLENNIA BEYOND TIME
PRESENT IN EVERY BLINK OF OUR EYES
GLISTENING WITHIN EVERY BREATH
ENTHRALLING OUR BLOOD WITH EACH PULSE/HEARTBEAT
RECORDING, REMEMBERING, RESONATING
[HOLDING NOW YOUR WATER,
EYES CLOSED] 
BELOVED PRECIOUS ONE: WATER
WATER OF EACH CELL, BONE & CREVASSE OF 
THIS MY PHYSICAL SELF
WATER OF MY BLOOD OF MY BREATH AND BONES
WATER OF THE AIR CARESSING MY LIFE
WATERS OF THE SPRINGS, WELLS, LAKES, STREAMS
RIVERS AND SEAS
WATERS DEEP WITHIN EARTH AND INTO
INTERGALACTIC SPACE
VAST CONSCIOUSNESS EVER GENEROUS WATER 
CARING, CARRYING US
CLEANSING US, ENVELOPING US
BIRTHING & BRINGING FORTH ALL LIFE
TEEMING IN THE OCEAN 
TEEMING IN THE AIR
TEEMING ON THE LAND
LISTENING, HEARING, RECORDING
NOW! NOW! & NOW!
BELOVED, GLORIOUS, MYSTERIOUS WATER!
CLEANSER, HEALER, PURIFIER, LOVER 
GIVER GENEROUS BEYOND BELIEF
VAPOROUS, LIQUID, & SOLID LIFE MASTER 
ANCIENT ONE, DIVINE ONE
REVELER, ROARER, BUILDER, DESTROYER
BIRTHER, BORER, WHISPERER, SEEPER
SOOTHER, WOOER, ARTIST, CONJUROR
TEACHER, BLESSED GIFT OF THE DIVINE
HERE COME WE, WORSHIPING THEE
GRATITUDE HIGH BEYOND THE MOON
ACROSS THE COSMOS AND BEYOND ALL TIME
TAKE NOW OUR BREATH, OUR PRAYERS
GIVEN IN OUR GROWING HUMILITY
TO SEED TO HEAL EVERY
TRANSGRESSION, YEA! ABOMINATION
ACTS OF HATRED, VIOLENCE, & POMP.
HOW VERY MINISCULE HAS BEEN OUR SIGHT
AND ABYSMAL OUR LOST STATE
AS WE HAVE AUTHORED & COUNTENANCED
TORTURE, EVIL, PAIN, ANGUISH, & GRIEF.
WOUNDS OF COMMISSION, OMISSION & DENIAL
AS MANY RAVAGE, SAVAGE OURSELVES
AND ALL LIFE ON BELOVED EARTH
TAKE NOW OUR WILL, OUR DEVOTION
OUR PLEDGE, OUR SEEDLING OFFERINGS
ONE BY ONE IN EIGHT BILLION
EMERGING IN OUR AWAKENING;
DAWNING OF OUR GREATER LOVE
TAKE NOW OUR EMBRACE 
WE ENJOIN WITH YOU INTO SACRED ALLIANCE
YOU CO- AUTHORING LIFE SO LONG
WE ACCEDE TO YOU OUR WILL AS WE ALLOW
AND BLOSSOM INTO THE DIVINE
WE GIVE NOW OUR BREATH, OUR PRAYERS
[SITTING DOWN YOUR WATER IN FRONT ON YOU]
PLACE YOU HANDS OVER YOUR HEART/CHEST
CLOSE YOU EYES 
BREATH IN DEEPLY THE GIFT OF BREATH
THE GIFT OF AIR
WATER IN THE AIR
LIVING RELATIVES IN THE AIR
BREATH IN KNOWING LOVE IS IN THIS AIR
THIS GIFT OF LIFE
BREATH IN LOVE
BREATH OUT LOVE
BREATHING IN LOVE, BREATHING OUT LOVE
KNOWING LOVE IS COURSING EVER MORE FULLY
THROUGHOUT YOUR BODY
FILLING EVERY ORGAN, PORE, TISSUE & CELL
[NOW PLACE YOUR HANDS OVER YOUR WATER]
LET YOUR GRATITUDE, 
YOUR THANKFULNESS & LOVE 
FOR WATER 
POUR FORTH TO THE WATER
THROUGH YOUR HANDS
YOUR LOVE FOR SO MANY THINGS YOU TREASURE 
TALK WITH THE WATER EITHER SILENTLY OR ALOUD
WATER IS LISTENING, HEARING AND RECEIVING
ALL YOU HAVE TO GIVE, SHARE, EMPART
ALLOW ALL YOUR FEELINGS TO ARISE
THEY MAY WANT TO FLOOD FORTH
LET THE ANGUISH OF ANY MEMORIES, WOUNDS, TRANSGRESSIONS
COME IF THEY SPONTANEOUSLY ARISE
LET YOUR PRAYERS FOR HEALING POUR FORTH
ALLOW WHATEVER NEEDS TO EMERGE TO COME
TAKE YOUR TIME
ACCEPT, ALLOW, 
BREATH, ALLOW
TALK/PRAY TO THE WATER WITH ALL YOUR HEART, MIND
BODY & SOUL
SPEND THIS INTIMATE TIME WITH BELOVED WATER
AMBASSADOR OF LIFE, LOVE, AND HEALING
[PAUSE SEVERAL MINUTES]
AS THE INTIMACY AND DEEPENING SUBSIDE
TAKE MORE DEEP BREATHS OF AIR 
LET YOUR PRAYERS SUBSIDE
AS YOU DEEPEN, DEEPEN INTO STILLNESS
BE STILL AND LISTEN
ALERT TO ANYTHING 
WATER WOULD SHARE, GIFT, PROVIDE
[PAUSE SEVERAL SECONDS]
[ALLOW YOURSELF TO SLOWLY OPEN YOUR EYES]
DIP YOUR FINGERS INTO THE WATER 
OR POUR A BIT INTO YOUR PALM
AND WET YOUR HANDS
ABOVE YOUR HEAD
CLAP YOUR HANDS
CLAP, CLAP, CLAP
ALLOWING THE WATER TO RAIN DOWN UPON YOU
DIP OR POUR MORE WATER ONTO YOUR HANDS
TOUCH AND SPREAD THE WATER OVER YOUR HEAD
YOUR HEART, YOUR TORSO 
WHEREVER YOU FEEL CALLED
TAKE TIME TO ANNOINT YOURSELF WITH WATER
IN THOSE PLACES SPECIAL TO YOU
LET THE HEALING BALM OF THE WATER AND YOUR PRAYERS 
ANNOINT AND TOUCH YOU
[PAUSE FOR SEVERAL SECONDS]
WHEN YOU ARE COMPLETE
BRING THIS VESSEL TO YOUR LIPS AND DRINK
WELCOME BELOVED, PRECIOUS WATER
FULL OF LOVE AND PRAYERS
COME CONTINUE YOUR JOURNEY WITHIN
CLEANSING, HEALING, PURIFYING
ALLOWING THE TRANSMUTATION OF
THE BODY, THE AIR, THE EARTH & HUMANITY
[CLOSE WITH DR EMOTO'S PRAYER]
WATER we are sorry, 
WATER please forgive us, 
WATER we thank you, 
WATER we love you.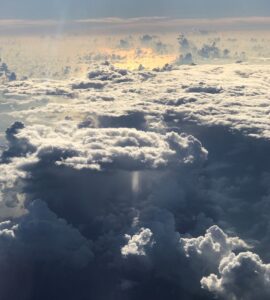 Gulf of Mexico
You are invited to
Do this each morning or evening
Or perhaps weekly alone or among friends
For one year
However long or short
You feel called
And forgive yourself if ever you miss!